Seasonal Event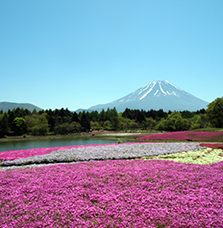 Fuji Shiba-zakura (moss phlox) Festival is a festival of flowers that marvelously colors Mount Fuji with the beautiful contrast of their colors.
It is held between 18th April and 31 May in 2015, and approximately 800,000 of shibazakura (moss phlox), which is the largest in the capital sphere, beautifully booms in a spacious premises at the base of Mount Fuji.
[Admission Fees]
Adult (junior high school students or older) 520yen / Child (3 years old or older) 210yen
[Hour] 8:00am - 5:00pm
*The length of opening dates and hours may shift, according to the flowering conditions.
---
Access
[From Shinjuku Staiton by Expressway bus]
- Route 1 (Direct access)
Shinjuku West Terminal → (Expressway bus : Approx. 2 hours 30 minutes / (one way) 2,200yen)
→ Fuji Shibazakura Fastival Site

- Route 2 (Transit at Kawaguchiko Staion)
Shinjuku West Terminal → (Expressway bus : Approx. 2 hours / (one way) 1,750yen)
→ Kawaguchiko Station → (Shibazakura Liner : Approx. 30 minutes / (round trip) 1,900yen)
→ Fuji Shibazakura Fastival Site
*Shibazakura Liner "Round trip ticket" including the entrance ticket to Fuji Shibazakura Festival Site

---
The Mt. Fuji Delicious Foods Festival is held in the site, and you can enjoy various local specialties around Mount Fuji and original treats of the festival.
[Fujinomiya Yakisoba]
Fujinomiya yakisoba is fried noodles which has been loved in Fujinomiya, Shizuoka Prefecture. It is characterized by resilience of the noodles, degreased crispy meat chips, and stock powder that gives rich flavor to the noodles.
[Yoshida Udon]
Local udon noodle cuisine eaten in Fuji-Yoshida-shi in Yamanashi Prefecture. The noodles is resilient and quite filling.
[Koshu Fujizakura Pork Soup]
Koshu Fujizakura Pork Soup is a healthy soup with "Koshu Fujizakura pork" a branded pork of Yamanashi and a lot of locally grown vegetables.
Koshu Chicken Giblet Stew
Koshu Chicken Giblet Stew is cuisine that stewed chicken giblets with sugar and soy sauce. It is a staple of Yamanashi Prefecture. When you order chicken giblet, you would get this.
Other than that, you would enjoy various kinds of delicious specialties, such as ramen noodles, Japanese style croquettes, at food stalls in the site.
---
You can enjoy not only the marvelous collaboration of Mount Fuji and Shibazakura, but also foot bath, café that offers original sweets of the sites, and gift shops of original goods.
"Scenic Foot Bath", while viewing beautiful carpet of Shibazakura
Just take off your shoes and socks to relax. It is unnecessary to take off your clothes
"Scenic Cafe", while viewing Shibazakura and Mount Fuji
At Sakura Café FUJIYAMA SWEETS, you can enjoy authentic original sweets featuring shibazakura.
---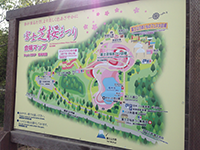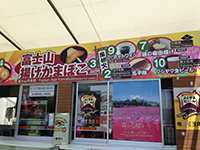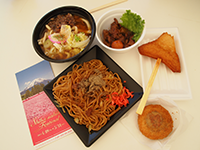 Seasonal Information
Spring
In Japan, the most famous sightseeing activity for spring is to see the cherry blossoms.
The cherry blossoms near Mt. Fuji are some of the most famous, and the sight of Mt. Fuji and the cherry blossom together is overwhelmingly beautiful.
Kawaguchiko Fujizakura Mitsuba/Tsutsuji Festival
[End of April - beginning of May]
One of the famous cherry blossoms near Kawaguchiko is called Fujizakura, also known as "Otome Zakura (Maiden Cherry Blossom)".
Visitors can receive Fujizakura seedlings for free, and speciality products are also for sale.
Fuji Shibazakura (Moss phlox) Fastival
[End of April - end of May]
Other than the cherry blossoms, moss phlox are also famous around Mt. Fuji and Kawaguchiko.
The moss phlox will cover the ground with beautiful pink. The Japanese name of moss phlox is "Shibazakura", meaning "grass and cherry blossom". Visitors can enjoy the bright pink of moss phlox like the cherry blossoms.
Kawaguchiko Herb Festival
[Mid June - mid July]
This festival is an event held all around the area of Kawaguchiko with the flower of lavenders bloom beautifully.
Summer
In Japan, the most famous events held in the summer are the fireworks festivals. Over 1,000 fireworks are launched during each festival, beautifully lighting up the night sky. At this time of year, many events are held around the area of the five lakes near Mt. Fuji.
Lake Kawaguchiko's Tenjō Mountain Hydrangea Tour
[Mid July - mid August]
If you get on the ropeway and reach the top of the mountain, you can enjoy the hydrangeas beautifully colored in blue, purple and pink.

Kawaguchiko's Kojosai
[Beginning of August]
This is the most largest festival around Fujigoko (the 5 lakes around Mt. Fuji).
Its main is the 400 metre long Niagara firework, with the spark of fire falling down on to the lake shining beautifully.



Autumn
The leaves start to change color once the temperature drops by around 10 degrees.
There are many famous sightseeing spots in Japan to enjoy the autumn leaves, such as Kyoto and Nikko.
At the area near Mt. Fuji, visitors can take in the view of the lake, autumn leaves and Mt. Fuji all at once.
Fuji Kawaguchiko Autumn Leaves Festival
[End of Otober - end of November]
Kawaguchiko will be surrounded by beautiful autumn leaves.
Please enjoy the atmosphere of both Mt. Fuji and Kawaguchiko in various colors.
Access : Please take the Retro bus (Lake Kawaguchiko Circuit)from Kawaguchiko Station to Kubota Ichiku Bijutukan Bus stop.



Winter
There are many places in Japan to enjoy the gleaming white snow. Near Mt. Fuji, both snow and hot-springs can be enjoyed together.
There are many hotels which offer an open-air bath, allowing visitors to simultaneously enjoy the crisp winter views while relaxing in soothing hot-spring water.
"Niagara Illumination" - Winter Wave of Lights
[Beginning of December - end of January]
This is a famous winter illumination near the area of Mt. Fuji. The illumination is made of 330 meters long falls and waves of light facing Lake Kawaguchiko. The white lights makes the whole place a fantastic atmoshpere.
[Access] Please take the Retro bus from Kawaguchiko Station to Kawaguchiko Natural Living Center.

The 5th Annual Winter Star Festival
[Beginning of January - mid February]
In this festival, people make their wish for the new year by writing your wish on a paper and tying it on a bamboo tree.
Colorful bamboo decorations will brighten up the festival and people make their own wish for the coming year.
[Access] Please take the Retro bus from Kawaguchiko Station to Kawaguchiko Natural Living Center.

The 14th Annual Winter Fireworks "Kojo no Mai"
[Mid February - end of February]
Usually, fireworks festival is held in the summer, but at the Kawaguchiko area, it is also held in winter.
Winter is a great season to see the fireworks since the sky is cold and clear.
There is an open fire so you can keep yourself warm while enjoying the fireworks.
[Access] Please take the Retro bus from Kawaguchiko Station to Kawaguchiko Herb Hall.

Saiko, Kawaguchiko Ice Festival
[End of January - mid February]
During the winter in Kawaguchiko, one can enjoy the beauty of the season with the ice festival. There are two places to enjoy the art of winter: The "Silver Frost Festival" at Wild Bird's Forest Park and the "Ice festival" at Oike Park.
[Access] Please take the Retro bus from Kawaguchiko Station to Saiko Yacho-no Mori.